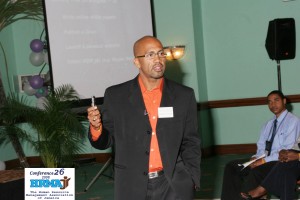 From time to time I am asked to conduct presentations and speeches in areas in which I maintain some unique expertise.
In the recent past, I have been asked to speak on the following topics:
– Networking in the Caribbean Region
– Acquisitions in Jamaica
– Cultural Differences in the Caribbean
– Expats in the Caribbean
– Moving to, and Living in Jamaica
– Inspiring and Motivating Employees
– Time Management for Global-Minded Professionals
– Information Overload and SmartphoneProductivity
What Makes Me Different?
Why am I different from any other speaker?
First of all, I customize all my speeches to the audience to whom I am presenting.  I do a lot of up-front work to understand the organization's requirements, and apply the unique insights taken from my blog, ezines, papers and podcasts  in order to give audiences a fresh view of well-known problems.
Secondly, I record all my speeches and load them on my website within 2 working days to allow anyone in the company to listen in to the presentation as often as they would like.  I can also provide a CD with the contents of the presentation.
Thirdly, I give all attendees the option of receiving further information from me in the form or ezines, blogs and podcasts, ensuring that their learning continues for as long as they desire.
In this way, a one-time, hour-long event is just the beginning of learning that continues for weeks after the event.
Speaking Fees
My speaking fees range from US$800 (in Jamaica) to US$2000 (outside the Caribbean region.)  They vary based on the following factors:
the size of the audience
the degree of interaction required
the organization type (non-profit vs. profit)
Sample Speeches
To hear and view some of my past speeches, simply visit this link at SlideShare.net
You can also watch a short video of a speech I gave at the Project Management Institute (PMI) in Jamaica by clicking on this link or on the graphic below. It lasts about 9 minutes:  http://www.fliqz.com/aspx/permalinkblank.aspx?vid=8deed036a41b60e9b8e0195a085d6512
Here is another speech I gave at the CaribizTech conference in October of 2010. It's a longer speech of about 30 minutes in length.
You'll be able to judge for yourself whether or not the content I have to deliver is new to your audience, or not.
Contact me with any questions you might have, or to book a speaking date at: http://Replyto Francis.info